When most people think of Lancaster County, the first thing that comes to mind isn't international cuisine. While we, of course, have our share of Pennsylvania Dutch foods (red beet eggs, shoofly pie, etc.), there is an incredible amount of diversity when it comes to the county's culinary scene. A great example is the (semi) new Bhutanese/Nepali restaurant Norbu. Opened in May of 2021, this restaurant offers diners a unique taste of a culture that many may not be familiar with, but it is a taste of home for some.
Lancaster has become a well-known haven for refugees from all over, thanks largely to the valiant efforts of Church World Service. A large percentage of those resettled here are of Nepali/Bhutanese descent. Norbu owners Sanya Yeh and Tenzin Norbu do an excellent job showcasing the very best of their heritage.
I was very excited to finally try the food as I had heard nothing but great things. Before I could even think about eating, though, I was first captivated by the lushly decorated interior. The cozy dining room is awash in vibrant colors that whisked me away from the cold dark night. I was greeted with a smile and went to join my friend who had snagged a table for us. The next task was deciding what to order. Everything sounded amazing. Pro tip: if you require a visual aid, the menu on their website has pictures!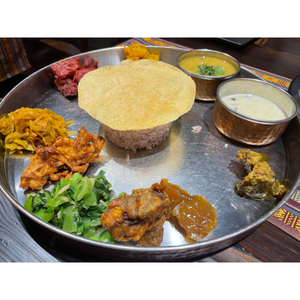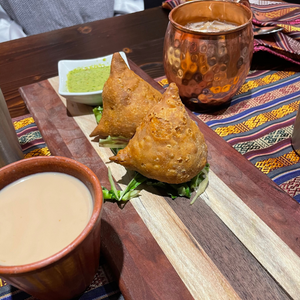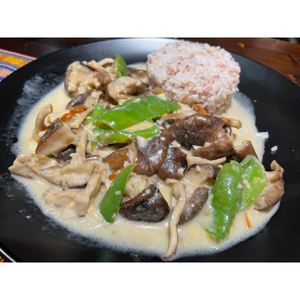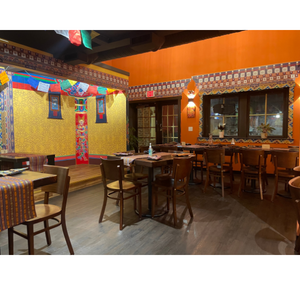 We finally settled on Singara Aloo (curried potatoes and peas stuffed in homemade dough and fried) for a starter. We ordered Shamu Datsi (Shitake mushrooms and garlic in a cheese sauce served w/ rice) and vegetable Thali to share.
I was worried that the Singara Aloo would be heavy for an appetizer, but it was the perfect portion! The Shamu Datsi was also surprisingly light despite being covered in a cheese sauce (which was delicious).
If it is your first time trying Norbu, the Thali is definitely where you want to start. Thali means plate, and it is a great way to sample the flavors of Nepal. Think of it as a whole 3-course meal in and of itself. They bring you a platter with everything from a cup of soup to a bit of dessert (rice pudding) on it.
All in all, I had a wonderful experience. The service was friendly and attentive. The atmosphere is lovely, and the food is something you should experience for yourself!
So the next time you are stuck on where to eat, pick Norbu.
And check out this article from Democrat and Chronicle on the profound impact the refugee population has had on our community.